Welcome to the University of Liverpool,
School of Dentistry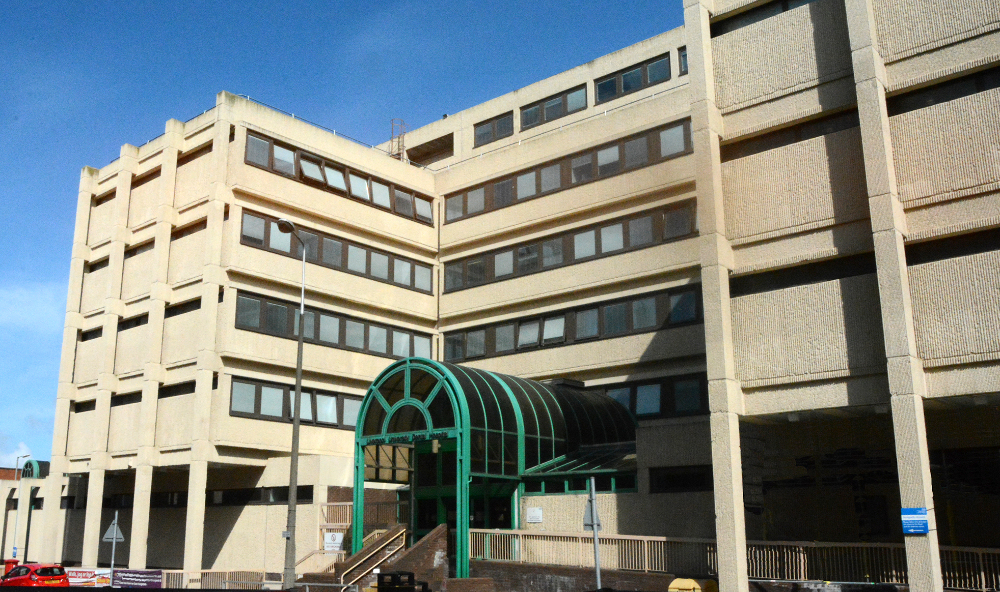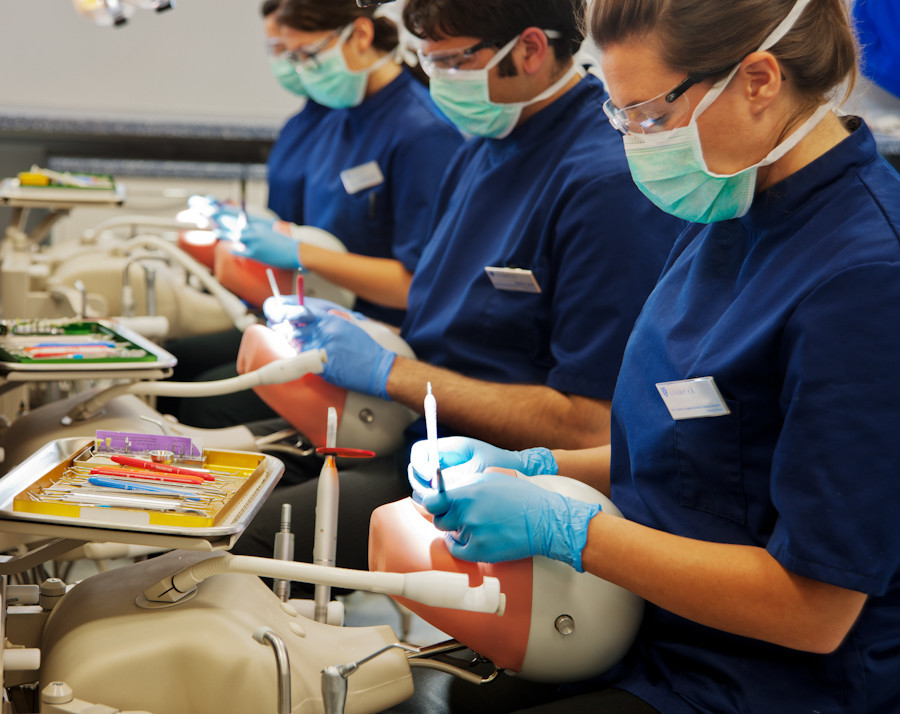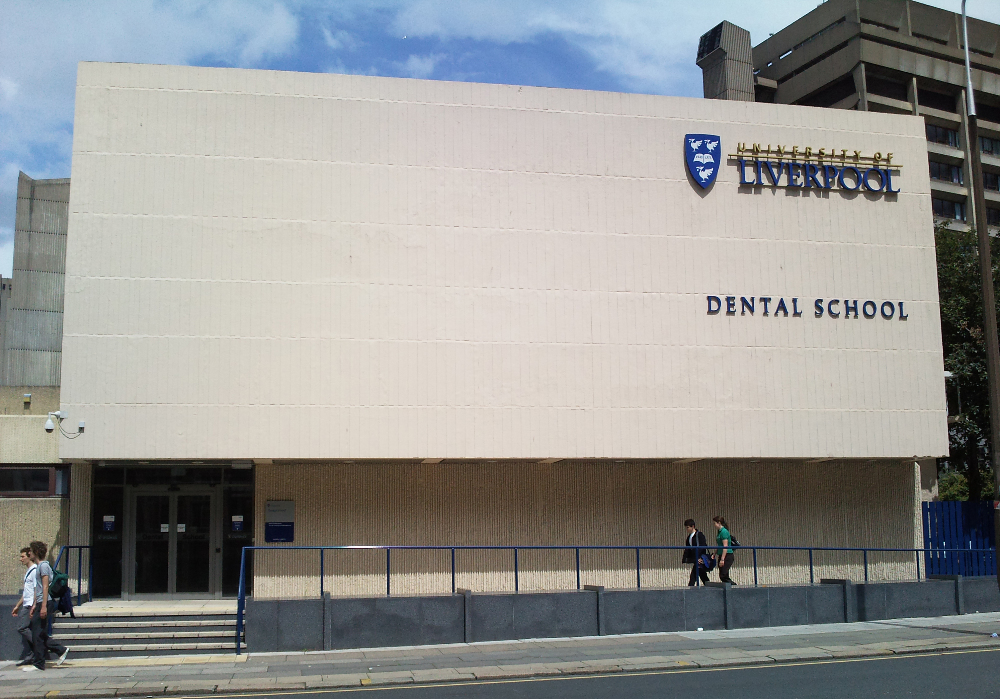 Congratulations and welcome......
As a School we are very much looking forward to meeting you in September.
September 2019 was the start of the Centennial Curriculum within the University of Liverpool, School of Dentistry.
This innovative new curriculum brings together BDS Dentistry (A200) students and BSc Dental Therapy (B750) students, that we refer to collectively as Dental Professionals. Within the first three years you will develop the scope of practice of dental therapy by learning together to support mutual respect and understanding. To emphasise this aim, these years of study have been named the Collaborative Learning Core (CLC) - CLC1, CLC2 and CLC3. At the end of CLC3, those of you on the A200 BDS programme will continue onto BDS4 and BDS5 where you will enhance your scope of practice from that of a therapist to that of a dentist.
The University uses a hybrid approach to teaching, with a large amount of face to face activity, supported by self-directed learning and online resources. During CLC1, you will complete a number of components covering a wide range of areas, designed to prepare you to be ready to undertake preventive and periodontal therapy on patients. These components include understanding clinical practice, integrated skills development, communication skills, personal development and wellbeing, medical emergencies, and patient care observation.
The following are key members of staff for CLC1 at the School of Dentistry.
Professor Vince Bissell

Dean of the School of Dentistry

Honorary Consultant in Restorative Dentistry

Dr Liam Boyle

Vice Dean for Student Experience

Honorary Consultant in Restorative Dentistry

Dr Laura Gartshore

BDS Programme Director

Senior Lecturer and Honorary Consultant in Paediatric Dentistry

Mrs Joanne Bowles

BSc Dental Therapy Programme Director

Senior Clinical Lecturer

Dr Lorraine Molyneux

CLC1 Lead

Senior Clinical Lecturer in Restorative Dentistry

Mr Steven Attwell

CLC1 Lead

Clinical Lecturer in Primary Care Dentistry

Mrs Ann Hughes

CLC1 Student Experience Lead

Ms Lynne Millsopp

Senior Tutor

Senior Lecturer in Oral Surgery

Dr Jumoke Adeyemi

Chief Academic Adviser

Senior Clinical Lecturer in Restorative Dentistry

Frequently Asked Questions
What will I be doing in my first week at Liverpool?
Your first week with us is Welcome Week (Monday 19th September - Friday 23rd September).
The aim of this week is to prepare you for the academic year ahead, here are some of the sessions that will take place:
Further details of how to access sessions for Welcome Week will be sent out to you.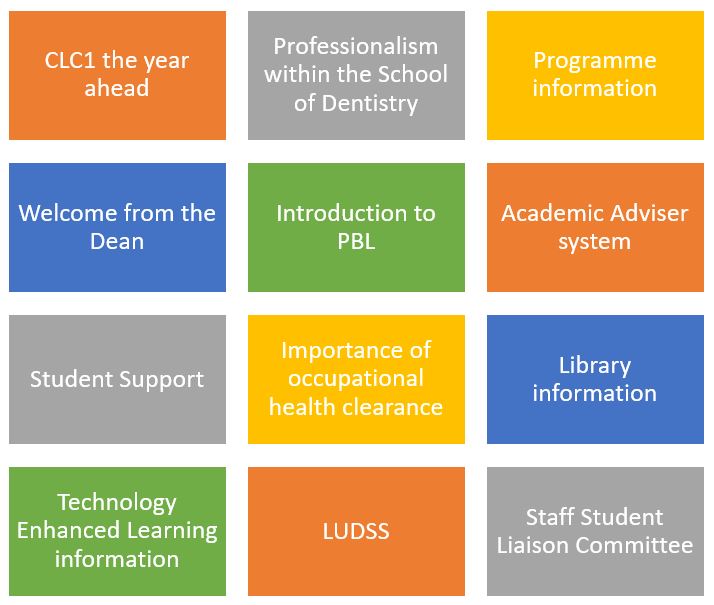 There will also be some time to get involved with wider University activities.
There will be a timetable for this week and further details of how to access sessions for Welcome Week will be sent out to you, please note there will be timetabled sessions every day and most sessions are planned to run face to face.
What will I be doing in my second week
(week beginning Monday 26th September)?
This is the start of your academic studies.
During Welcome Week you will be shown how to use the timetable.
What should I be doing RIGHT NOW?
Please can we ask that you complete and return the Student Health Check Questionnaire and the Student Health Declaration forms, as soon as possible following the guidance given. This will reduce the risk of any hold ups once you have started the programme.


Register for your MWS (managed windows system) computer account. Details can be found here https://register.liv.ac.uk/
Registering as soon as possible means that we will be able to give you access to all the online resources you might need in your first week. This account will also give you access to your email etc. For more information please refer to the computer services quickstart guide https://www.liverpool.ac.uk/csd/quickstart/
Keep an eye on your emails as this is how we will communicate with you all at this stage.
Why is Occupational Health important?
You need to be Occupational Health screened and cleared before you can participate in clinically-focused components – for your personal health and safety, and for the health and safety of patients and colleagues.
It can take up to 3 months for this process, depending on how quickly Occupational Health receive the correctly completed paperwork from you, and what vaccinations you may need. Bearing in mind that Occupational Health screen ALL healthcare students (900 students approximately each September - December), you are advised to complete the paperwork promptly and completely (with full details as instructed) and ATTEND THE COMPULSORY TIMETABLED OCCUPATIONAL HEALTH APPOINTMENT, even if it means you will miss a lecture or teaching session.
COVID vaccinations are stongly advised.
What is an Academic Adviser?
Academic Advisers in the School of Dentistry are in a position to create a supportive learning environment, whilst allowing students to develop the life skills and capabilities they need for self-management and future employment.
You will be allocated an Academic Adviser, who is a member of staff at the School of Dentistry, and a separate email regarding this will be sent to you. During Welcome Week the Academic Advising system will be explained to you further.
Is there a reading list?
Reading lists will be made available to you at the appropriate time.
We also want students to be aware that the Curriculum at the University of Liverpool is supported by a Problem Based Learning (PBL) approach. This is the main approach used within the Understanding Clinical Practice (UCP) component. Within UCP, the scenarios will integrate biological sciences such as anatomy, physiology, biochemistry as well as epidemiology and public health, dental health, relevant social and psychological sciences, dental professionalism, and oral biology and diseases. UCP supports other components within the year and will underpin your development of an evidence-based approach to patient care.
There isn't a textbook that covers all these areas and we encourage you to draw information from a variety of sources, including original research papers (even in year 1).
Here are some suggested textbooks if you want to read ahead:
Anatomy and physiology textbooks (some textbooks will combine anatomy and physiology). Many publishers offer extracts of the textbooks online. Choose a subject area, anything you like, and read the same section in each textbook. We recommend you select the one which makes the most sense to you. Some of the textbooks are very comprehensive and could see you through your entire programme if you can understand them. Other books are pitched at a much more comprehensible level (with more illustrations), but may only be suitable for year 1. The decision is yours.
Practical Periodontics - Edited by Kenneth Eaton and Philip Ower
Pickards Guide to Minimally Invasive Operative Dentistry - 10th Edition, Avijit Banerjee & Timothy F. Watson
Please be aware there is no need to go out and buy multiple textbooks, the University of Liverpool Library is well stocked with hard copies and electronic copies, which you will have access to once you start.
There has been an app developed in the past, which students have highly rated - MicoCharta (click on the link and have a go - it has been specially created to aid your learning of anatomy).
Another useful guide to have a copy of is:
Delivering Better Oral Health: an evidence-based toolkit for prevention - to support dental teams in improving their patient's oral and general health. Click on this link to access: Delivering Better Oral Health - Toolkit
When do I start seeing patients?
CLC1 is designed to enable the management of a patient journey through establishing appropriate applied knowledge and understanding, combined with the development of real-world clinical, team working, leadership skills, and supported by essential personal growth. Therefore, as you progress through CLC1 you will be developing towards treating your own patients, with the intention that you will be ready to treat your own patients by the end of CLC1.
Can I use any photograph for registration?
You will require a photograph as part of your registration process.
Please follow the government guidelines for passport photographs which can be found here https://www.gov.uk/photos-for-passports
The photograph you submit will be attached to your student profile for your entire time at the university so make sure you are happy with it.
Do I have to bring my own extracted teeth?
When developing your clinical skills during your time at the School of Dentistry, you will practice these skills in our simulated learning environment using "phantom heads". Predominantly, we use plastic teeth, but in order to better understand the disease processes, it is very beneficial to work on previously extracted human teeth wherever possible.
You will receive information about this separately.
How do I register with a GP?
To find out all you need to know about student health visit the University of Liverpool Student Health Pages
If moving to Liverpool it is strongly recommended that you register with a GP locally to the University, this saves you having to travel home to attend appointments, this can impact your attendance.
What is the dress code?
As part of a clinical programme you will need to maintain appropriate standards of dress, appearance and personal hygiene so as not to cause offence to patients, teachers or colleagues.
The School of Dentistry is part of the Dental Hospital, where there are many patients in clinics and waiting areas. Students are required to be appropriately dressed when working in or passing through these areas, therefore please dress as a dental professional (jeans, trainers and other casual clothes are only permitted for students accessing the locker rooms via the School entrance, thereby avoiding clinical areas).
Clinical attire/dress (what you wear when treating patients) will be explained to you during Welcome Week. You will require scrubs and appropriate clinical footware - you will be receiving an email about this.
You will also require a white lab coat for Human Anatomy Resource Centre (HARC) sessions, again you will be receiving an email about this.
For online teaching sessions/meetings you would need to be dressed as you would if the session was taking place face to face.
Is there a Liverpool University Dental Students' Society?
Yes, all you need to know about the Liverpool University Dental Students' Society (LUDSS) can be found on their website (click here).
Are there any words of advice from previous students?
"Complete your occupational health forms as soon as you can - otherwise it will affect your progression through the year."
"Get to know your year group, get involved in every social event hosted by LUDSS and throw yourself out there because your peers are going to be the people who help you with future work and advice for the rest of the year. Most of all enjoy it, first year goes so quick!"
"Establish how you want your notes early on (ideally the first couple of weeks) and ask others how they are doing theirs so you don't have to change them midway through the year and they are easily accessible for PBL scenarios and exams."
"Always go over your notes after each lecture. This is because there is so much to learn and it's really important to know what you're talking about."
"Get friendly with the people in your PBL group as you will be spending a lot of time with them! Try to interact with those in older years, especially your peer mentors. Finally, although it is daunting try to relax and enjoy yourself, it goes so quickly and you've worked hard to be here!"
"Don't compare yourself to others."
"Check your emails daily."
"Just breathe, it's definitely possible."
"Use Micocharta."
"Work consistently through the year, if you leave it until the exams, you will be stressed. Do yourself the favour."
"Make the most of your sessions on the phantom heads - get as much practice as you can."
"When using CANVAS the virtual learning environment (VLE) use the navigation by week tab and the navigation by component tab."
Will I need a laptop/tablet during my studies?
Throughout your studies, you will require the use of a tablet or laptop to access learning materials while in class. We recommend you purchase your own device prior to starting at the School of Dentistry. The following document will outline some recommendations with regards to IT equipment which may be required during your time at the School.

School of Dentistry IT Recommendations

If you do not have access to a tablet or laptop for this purpose then please contact tel.dentistry@liverpool.ac.uk to discuss options.
Do you have any other questions?
If you have any other questions about admissions please email Mrs Abby Watkins
If you have any other questions about CLC1 at this stage please email Mrs Ann Hughes
Information for parents/supporters
Once you have had the opportunity to settle into university life, parents and supporters who may wish to find out more about the programme will be invited to access a website providing an overview of the course and what support is available to you as students as you develop into independent practitioners. Parents and supporters have reported they found this very useful, further details will follow in the Autumn Term. The university website provides some guidance for parents and supporters which can be accessed using the link below.
Parents and supporters information.
Final note from us...
We look forward to meeting you all, good luck, and we hope you enjoy your time at the University of Liverpool, School of Dentistry.